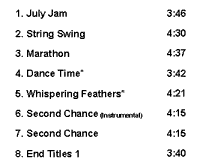 The asterisk (*) indicates that the song was composed using General MIDI (GM) format and is available in MIDI format on Brian Dill's personal website.

All songs are written, performed and produced by Brian Dill. Further album art with be forthcoming as it is developed.

Once the album is complete, the initial distribution channel will likely be MP3.com, so stay tuned...